CIPHI National conference explores the expanding role of Public Health Inspectors
What are the major issues facing environmental health practitioners in public health? The Canadian Institute of Public Health Inspectors (CIPHI) explored this these at their 81st annual educational conference titled "Looking Back, Moving Forward" held in Ottawa September 13-16, 2015. The conference was held in Ottawa, September 13-16, 2015. It was great to meet environmental health professionals from across Canada, and work face to face with colleagues from across the National Collaborating Centres (NCCs) for Public Health.

On Wednesday, September 16, the NCCs for Determinants (NCCDH) and Environmental Health (NCCEH) teamed up to present Public Health Inspectors Taking Action on Health Equity and the Social Determinants of Health. Lydia Ma from the NCCEH provided an overview of the six NCCs for Public Health, and emphasized that each NCC has resources that may be helpful for environmental health professionals. I then summarized our recent report "Equity in Environmental Health Practice: Findings of Pilot Study" (co-authored by myself and Karen Rideout from NCCEH) which explores the intersection of health equity and the SDH with environmental public health practice, how the SDH affect the work of PHIs, and the role that Public Health Inspectors (PHIs) can play in addressing these factors.
To complement the findings of our report with first hand practice stories, we were joined by Vittoria Vecchiarelli, a Senior PHI at Regional Municipality of York, Community and Health Services Department, Health Protection Division. Vittoria spoke about her role in a community-based participatory project related to indoor air quality in low income housing, and how the Health Protection Division has developed a health equity committee specific to considering the SDH in environmental public health practice for their region. I was particularly interested to hear that their Health Protection Division has developed a health equity committee specifically for environmental health practice in their region. If your health unit has a similar committee, leave a comment below or email me!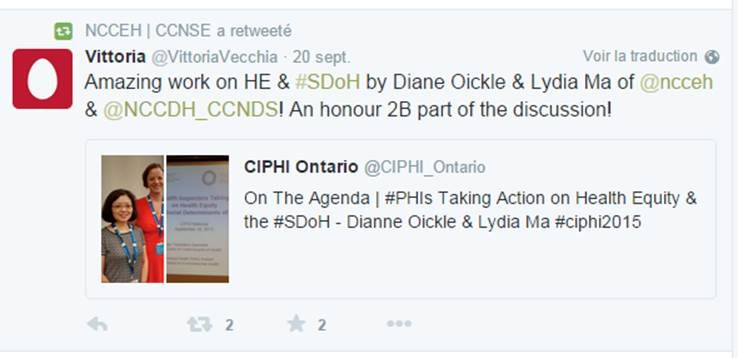 Having a PHI role dedicated to a health promotion role in addressing health equity was mentioned as an organizational support that would provide support to staff on a division or department wide basis on issues related to the SDH and health equity. The value of a PHI interacting with community members as part of a campaign was talked about as a great way to break down barriers to the use of public health services among vulnerable populations. An added bonus to involving marginalized populations in program delivery is that it can give them the opportunity for skill building in other areas such as communication, meeting facilitation, and peer education.
The audience responded to our presentation with a rich discussion about the role of a PHI, and the opportunities to reduce inequities through related public health practice. Session participants expressed a need for increased organizational support to address the SDH within their practice. For example, dedicated time for PHIs to engage in health promotion and education, and/or creating a division or department wide committee for addressing the SDH and health equity were mentioned as being supportive for PHIs to address factors that affect regulatory compliance. Following Vittoria's remarks, PHIs in the room also discussed the value of interacting directly with community, and noted that involving marginalized populations in program delivery may provide other beneficial skills building opportunities, such as meeting facilitation and peer education, as well as breaking down barriers to the use of public health services among vulnerable populations.
I was also on the lookout for highlights from other sessions related to the social determinants of health (SDH) and health equity.
Diane J. Adams, a former journalist and current Environmental and Indigenous Health Specialist, presented "Selling Science across Cultural Divides: Practical Skills for Public Health Practitioners". She explored the impact of culture on environmental health practice, and cited culture as the best predictor of understanding science and risk perception. She also reinforced the importance of citizen engagement and community-based participatory research. Her comments about the impact of culture on language, and the meaning that certain interactions (for example, shaking hands or eye contact) can hold for various groups was discussed really resonated with me. Diane stressed that it was critical for environmental health practitioners to understand and implement cultural safety in their practice. (To learn more about this concept, check out this resource from the NCC for Aboriginal Health.)
Erica Phipps from The Canadian Partnership for Children's Health and the Environment (CPCHE), along with Karen Croker (PHI at Grey-Bruce Public Health) and Vittoria Vecchiarelli (as mentioned above) presented Improving Housing Conditions for Marginalized Populations, which highlighted the work of the RentSafe initiative. This 3-year project looks at indoor environmental health risks through community based participatory research and engagement of stakeholder organizations to build awareness and bridge clients with the services that will help them have healthier living conditions. One of the presenters stated "it is like adding a little WD40 – where can we add support, resources, and services to support collaboration and work." (For more resources on indoor environmental health risks, check out these resources from the NCCEH)
In the many conversations I had with PHIs at this conference, it quickly became clear that this is a passionate group of professionals that are very well suited to addressing the SDH and health equity. PHIs have skills including assessment, communication, collaboration, facilitation, and compassion that position them well to expand beyond their traditional regulatory role towards supportive and educational roles to address the needs of their clients. PHIs care deeply about their communities and their clients, who include restaurant owners, tattoo artists, housing managers, and more, and are ready for the challenge of addressing health equity in their practice.
CIPHI Manitoba is having their annual branch workshop on October 7-8, 2015 in Winnipeg. We are excited about our joint NCCDH and NCCEH session at this event titled "Determinants of health and public health practice: Opportunities for action" on Thursday October 8 at 8:30-10:30 am local time, which will build on the themes raised at the CIPHI national conference. Together, we'll explore further actions that PHIs can take to address health equity and the supports needed to help them do so. Really hope to see you there!
If you have any thoughts on this topic, we would love to hear from you. Here's how you can be in touch:
Tags