Webinar: "Racing" the social determinants of health and health equity (Part 2 of 2)
This webinar is the second of a two-part series on the impact of racism on health and approaches to addressing racism and improving the health of Indigenous and racialized peoples. Racism, defined as a systemic force that impacts the distribution of power and resources based on socially defined "races," impacts the health and well-being of Indigenous and racialized peoples.
The webinar will explore approaches to addressing racism that occurs at the organizational and systemic levels. Specifically, the webinar will:
share examples of anti-racist organizational transformation;
discuss anti-racist policy approaches; and
highlight the importance measuring systemic racism in public health data systems.

Speakers

Related resource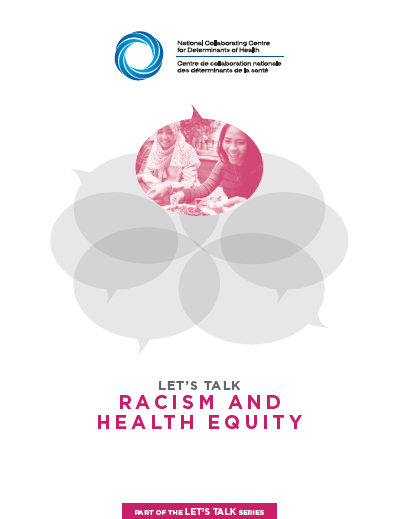 Let's talk: Racism and health equity (2017)
Missed Part 1 of the series? Access the recording and summary here.
Presenters:
Sume Ndumbe-Eyoh

Sume Ndumbe-Eyoh, MHSc

Senior Knowledge Translation Specialist

Sume has professional experiences in equity-focused organizational and community development and change, social justice education, HIV/AIDS prevention, research, knowledge translation, evaluation and women's rights with local, provincial and global organizations. Sume has previously contributed to teams at the Program Training and Consultation Centre of the Smoke Free Ontario Strategy, the Regional Diversity Roundtable, Ontario HIV Treatment Network, Southern African AIDS Trust and the Centre for Social Justice. Sume holds a Masters of Health Sciences in Health Promotion and Global Health from the University of Toronto.

seyoh@stfx.ca
Resources in our Library: